The introduction about Bloxd io
Bloxd io is an interesting multiplayer game in which you can discover an infinite world. Choose your favorite game mode and participate in mini-games now.
In February 2021, a young game developer named Authur Baker released this multiplayer game. The launch of this game created a shock in the gaming community. With engaging gameplay, various game modes, and interesting mini-games, this game attracted many players from all over the world. It is considered to be one of the best sandbox games. Until now, the game has been still hot. What are the secrets behind its success? Play this game and explore them now.
In this game, you can join any available lobby to play with other players from all over the world. Otherwise, if you want to play with your friends, you can click the Join Name button to create a private lobby. Then, you need to copy the link of your lobby and send it to your friends to invite them to join your lobby.
Available game modes in Bloxd io
The most interesting thing about this game is the number of game modes. This game has up to 6 game modes. In particular, each game mode has unique gameplay, so you always have a fresh and interesting playing experience. Now, I can hardly wait to introduce the playing rules of the game modes in this game.
Survival Mode
The first mode in this game is the Survival Mode. In this mode, you will get a chance to join an endless survival fight in the open world. In this fight, you and the other players have to kill each other to become the last survivor. Be careful because your opponents are really strong. They can hide anywhere and attack you from behind. Therefore, you need to stay alert at all times. This game mode has no map which shows your position and your opponents' positions. As a result, you need to utilize your navigation skills to find your enemies and assassinate them. Besides struggling with other players, you are free to do anything in this infinite world. I suggest you collect resources and use them to craft strong weapons. They will be useful for you to take down the rivals.
Peaceful Mode
The second mode in this game is the Peaceful Mode. This mode is suitable for players who want to live a peaceful life. In this mode, you are not allowed to attack other players. Instead, you will explore the infinite world and live your life.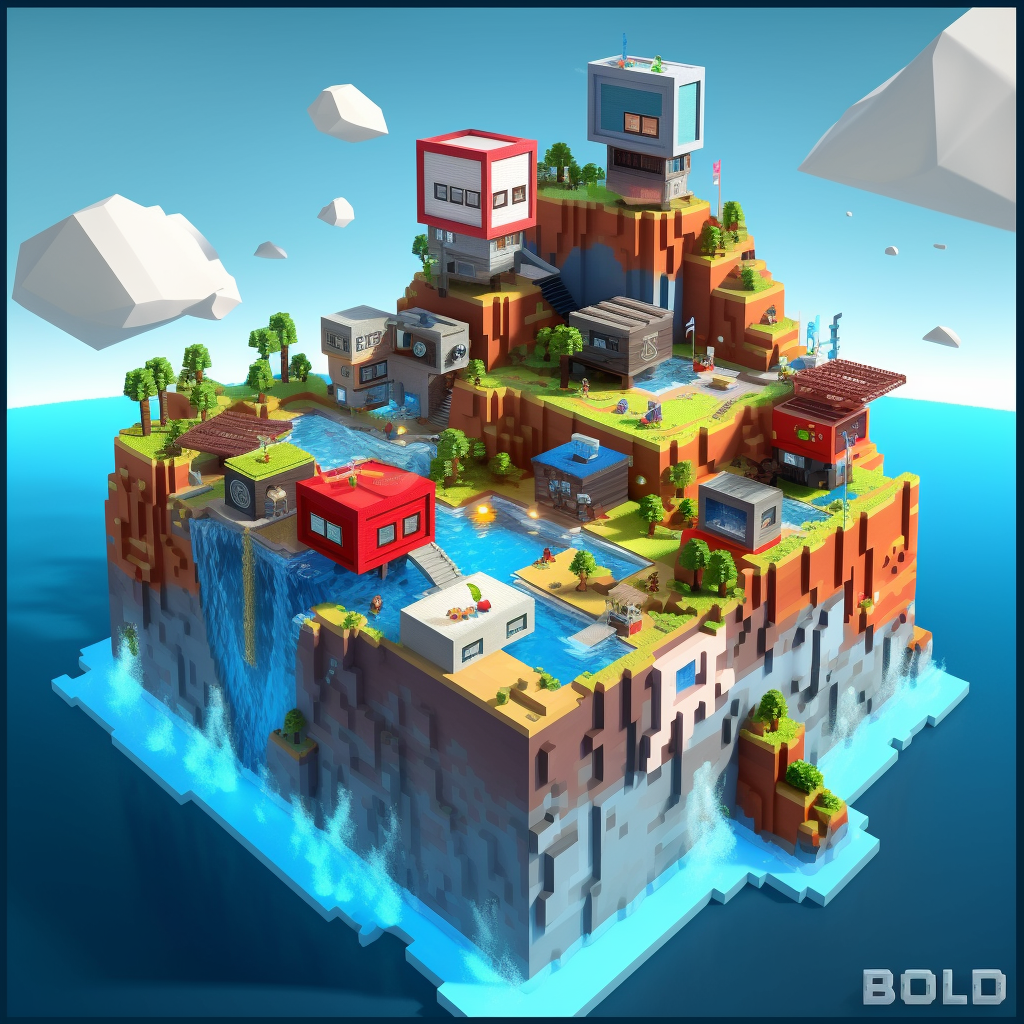 You can mine different resources such as gems, stones, grass, and so on in the infinite world. Note that you need to dig -91 if you want to find diamonds. If you want to get moonstones, you can go to the caves and start to dig as deep as possible. Then, use these resources to craft tools such as axes, pickaxes, shovels, hoes, shears, and buckets. Note that each tool has a distinct function. The pickaxe can be used to mine ores and blocks such as Iron Ore, Diamond Ore, and Stone. Meanwhile, you can use the ax to chop trees and other wood-related items. The shovels can be used to mine grass, dirt, and useless soil. You can use the shears to cut grass, turn it into dirt, and mine wool and leaves. If you want to collect water, let's use the bucket. If you want to make grass blocks into tilled soil and broken leaves, use the hoe. Besides tools, you can craft other items such as wool. To get wool, you need to craft with tall grass and leave blocks, then craft wool with wood planks for the bed, and ultimately click on the bed to set spawn. Finally, you can use these tools to build different buildings.
Creative Mode
The third mode in this game is the Creative Mode. Like the Peaceful Mode, this mode also takes you to an infinite world in which you can free your creativity. Let's go around and gather as many resources as possible by mining blocks. Then, you need to utilize your creativity to build different buildings. Keep in mind that mining, digging, and building are works that consume a lot of energy. When you are about to run out of energy, you should make bread and eat it to restore your health. To make bread, you need to combine 2 wheat and 1 coal in Furnauce or 3 Wheat in Workbench. In addition, you can collect fruits and eat them if you want to restore your health. Here is the list of fruits you can collect.
Apples: They are common fruits in this game. You can find them easily and eat them to restore your health.
Coconuts: This kind of fruit is appreciated by many players because it helps to increase the speed of players for 6 seconds. You can find many coconuts in the elm forest and use them to make cracked coconuts.
Pears: The pears can be found in the maple wood forest. If you consume the pears, you will receive reduced damage for 10 seconds.
Plums: You must find plum trees in the bluebell forest and autumn maple forest and break plum leaves to get the plums. Note that the plums will help to boost your damage ability for 6 seconds.
Bed Wars
Bed Wars is a thrilling PVP game in which your objective is to destroy your enemies' beds. Besides, you also need to protect your bed from your rivals. If your bed is destroyed, you will be eliminated from the fight. Therefore, you should be careful and try to kill all opponents who want to approach your bed. Moreover, this mode requires teamwork skills because you need to cooperate with your teammates to defeat the opposite team. You can open the chat box at the top left of the screen to chat with your teammates or enemies. You will win when all beds of the opposite team are destroyed. This fourth game mode has two sub-modes.
4v4v4v4: If you choose this sub-game mode, you will play as a team with other players from all over the world. Each team will have 4 members.
Duos: This sub-game mode allows you to play in teams of 2.
One Block
This is the fifth game mode in this game. As its name suggests, this mode offers you only a block and three tools. This block is floating in the sky. You need to dig up this block and then another block will appear. Try to dig up as many blocks as possible to collect resources and raise your skill level. When you have a lot of resources and your skills reach level 10, it is time to build your island. Let's create different biomes on your island. This mode will put your creativity to the test. Note that you will die if you exit your island. Moreover, if you enter the purple portal, you will be teleported to the islands of other players.
Greenville Mode
If you want to become a farmer, you can choose the Greenville Mode. At the start of the game, you need to choose between three houses including a wooden house, a medieval house, and a hobbit hole. If you want to build your own house, you can choose the empty slot. If you have a lot of money, you can buy more beautiful houses such as modern houses, Japanese houses, country houses, mushroom houses, tree houses, or even castles.
After having your own house, you need to find jobs to earn as many silver coins as possible. You can go to the market and find customers to find ordered items. The customers will pay you a lot of coins after you complete the assigned missions. Additionally, you can mine many resources and sell them. The items that you can sell are maple logs, maple leaves, aspen logs, aspen leaves, apples, wheat, and hay bales. Note that different purple portals will take you to different maps in which you can gather resources. Attempt to earn as many coins as possible and use them to buy new furniture to decorate your house.
How to control
Press the arrow keys to move.
Press the N key to customize your character.
Press a B key to open the shop
Press a Tab key to open your inventory.
Press a T key to open the chat box
Click the left mouse button to destroy blocks.
Click the right mouse button to place blocks.
Press the number keys to change the blocks or tools.
Click the right mouse button or an E key to eat food.
Press the M key to open the task list.
Interesting mini-games in Bloxd io
Besides game modes, this game will impress you with exciting mini-games. There are four mini-games in this game and each mini-game has a distinct playing rule.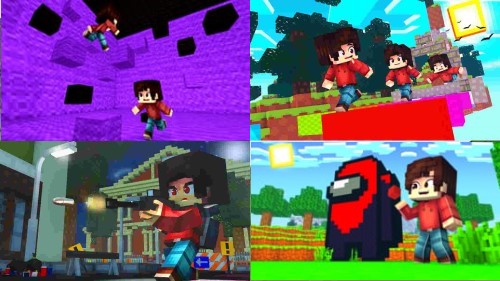 Cube Warfare
If you want to show off your shooting skills, you should not ignore the Cube Warfare mini-game. In this game, you will be armed with a gun. You must go around the arena to find other shooters and shoot them down. When an opponent is eliminated, many items like tools and blocks will be dropped. You can collect them and use them to construct your base. Moreover, you will claim many coins after taking down enemies in the arena. These coins can be used to purchase new guns such as AK 47, MP40, TAR-21, M1911, M16, and Double Barrel in the shop. Moreover, you can use them to upgrade your health and speed. Your ultimate objective is to survive as long as possible and assassinate as many gunners as you can.
Evil Tower
The second mini-game is Evil Tower. As its name suggests, you will be teleported to an evil tower with many players from all over the world when playing this mini-game. This tower has many floors. Your mission is to jump on different platforms to reach the top of the tower. This may be challenging for you because the distance between platforms is fairly far. You need to jump as high as possible to land on another platform safely. Remember that this mini-game has no checkpoint. Therefore, you have to start your adventure again if you fall off the platforms. The leaderboard at the right of the screen will show your name, the floor you are climbing on, and the height you reach. Besides, you also can know similar information about the top 10 players. Try your best to reach the top of the tower first to get the first rank on the leaderboard and win this mini-game.
Doodle Cube
If you want to show off your creativity, let's join the construction competition in the Doodle Cube mini-game. In this competition, you and the other players will be separated into different rooms. When the theme of the competition appears, you must be quick to use the blocks to construct the themed building. Note that you have more than 7 minutes to complete your masterpiece. When the time is over, you will be taken to other rooms of other players and start to vote for their products. There are 5 kinds of votes which are Legendary, Epic, Good, Ok, and Poop. Press the 1-5 keys to choose the vote. Your rank will depend on the number of votes you get. If you want to get the first rank and win the competition, you need to create the most impressive masterpiece.
BloxdHop
The final mini-game is BloxdHop in which you can show off your parkour skills. In this mini-game, you will compete with other players to jump from one platform to another one to reach the island. Be careful! If you fall off the platform, you need to press an R key to return to the starting point or the nearby checkpoint. Press the M key to open the task list. You must complete different tasks such as playing for 5 minutes, reaching 2 checkpoints, jumping 13 times, and so on in order to earn as many coins as possible. Then, you can use your coins to buy power-ups such as Jump Boost, Speed Boost, Double Jump, Triple Jump, and Blocks. You can buy 5 blocks in each round and use these blocks to create platforms. Note that the allotted time of this parkour competition is 10 minutes. You must get to the island before the time is over.
Bloxd
Bloxd is an exciting multiplayer sandbox game featuring awesome 3D graphics. In this game, you can create your own world with different biomes and buildings. First, you need to choose the Worlds mode. Then, click on the Browse button or the Join Name button to open the list of available worlds. These worlds are created by other players from all over the world. You can enter these worlds to discover. Otherwise, if you want to build an open world, you can click on the Create button. In your world, you can do everything you want such as mining, crafting, and constructing to create the most beautiful world. Besides, you can customize your character. Press an N key to open the wardrobe and change the head, leg, and body. Interesting, right? Why don't you try this game to experience exciting things?
Bloxd io 2
If you are keen on adventure, Bloxd io 2 is a perfect choice. Play this game now to explore worlds with many players. These worlds have many biomes such as the bluebell forest, plains, mountains, desert mountains, deserts, snowy plains, snowy tundra, exotic forests, cacti deserts, and autumn maple forests. Go to the forest if you want to collect resources such as grass, logs, stones, and leaves. Go to the deserts if you want to gather sand and cactuses. These resources can be used to construct buildings and craft tools. Besides joining exciting adventures, you can chat with your friends to make new friends from all over the world.
In general, this game is a perfect choice for anyone who wants to show off their fighting skill, creativity, and imagination. I played this game and it entrapped me for countless hours.